Nov 8, 2013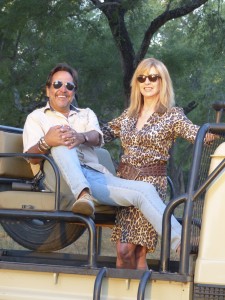 "Who is Cherri Briggs?" is a great acknowledgement of our 'noble leader', Cherri, written by Richard Story, editor in chief of Departures magazine, for their their gorgeous 200 page Africa issue. The magazine goes to all American Express Platinum and Centurion cardholders. If you aren't holding one of these cards, you should get one just to get the magazine which is the last word in travel!
Cherri takes lots of people, from regular folks to the rich and famous, to some very remote and special places in Africa. Quite frankly I don't think anyone knows Africa like our boss does. She has lived in Africa for 19 years and when she is not advocating for locals in Zambia where she and her husband Richard live on the banks of the Zambezi wilderness, she is spending her time visiting new as well as familiar lodges, camps and checking out destinations to ensure that they continue to fit the bill for our highly selective EXPLORE portfolio.
So who is Cherri Briggs? Richard Story said it well in Departures but from my personal point of view and as a more recent member of the EXPLORE team, I can give you my own perspective. When I first came to work for EXPLORE in June 2012, I had no idea that our small community in the Rocky Mountains hosted an African tour operator of such merit. Coming from the hotel business my universe was all about how to persuade visitors to choose Steamboat Springs as a ski destination over Vail or Aspen. Who would have thought that Steamboat was the center of the universe for creating dreams in Africa? I was thrilled to be asked on board and haven't had a moments rest since!
Cherri treats her business just as she does her life, always taking risks and living on the edge for the sake of adventure and love of Africa. Anyone who knows her will tell you she is not afraid to speak her mind about her passions: preserving the integrity of Africa's last wild places and supporting the people, cultures and wildlife that make it so magical. In the end, this is what keeps her up at night. Actually, I don't think this woman sleeps. If you have a bit of time and are curious about the really wild places of Africa, check out this raw vintage footage of what Cherri and her brother and a couple of friends did back in 2002 (just because she thought it would be a good idea to lead the first descent of 650 Kms down the Lugenda River in remote, unexplored Mozambique!)
These are the kind of things that Cherri does, without any hesitation whatsoever. When it comes to travel, Cherri is annoyingly (let me tell you she drives us mad!…) meticulous about each and every itinerary that goes out our doors and insists that it will deliver a sense of the 'real Africa' at the standard our clients expect. She is a relentless perfectionist, not just about EXPLORE clients receiving the highest levels of service and perfect customized itinerary, but about maintaining her high standards of ethics and conservation; and holding the lodges as well as anyone within her reach of influence to the same high standards.
But that is why she is so successful, and why I am grateful to be working for EXPLORE. When Cherri says something, she means it, she always stands firm on what she believes in and she takes care of her people! She is loyal to her employees and her partners in Africa, but her first commitment is to her clients. It is never boring around here as she is constantly keeping us on our toes, upping our game, and always has some crazy new impossible idea she is pursuing, from hunting with the pygmies in the CAR to driving across the Bayuda desert in Sudan. I am stunned by who calls here, from movie stars to heads of state in Africa. You never know who you will speak to next. In the past year, during her spare time (??), she was given the distinct honor of Honorary Consul to the Republic of Zambia, was recruiting guest speakers for the Convention on Cluster Munitions (4MSP), consulted on projects in the Congo and remote Ethiopia, and starting Chics for Chicks project which helps local African women build chicken projects through support of some of our American women clients.
Back at the Steamboat EXPLORE headquarters, we are part of making people's dreams of Africa come true and get to make a contribution to making positive changes in Africa, conserving wildlife and helping people. As Richard Story says…"A cross between Goldie Hawn and Beryl Markham, she is the go-to gal for the most familiar as well as the most out-there safari."
Don't Miss the Departures interview….
Written by Cathryn Mayer,
Director of Administration
---