TANZANIA / Singita Grumeti Reserve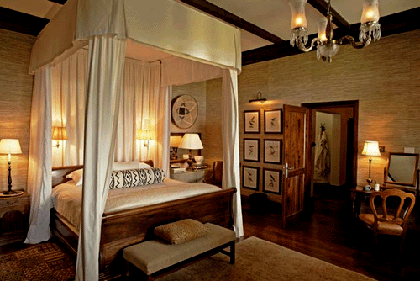 Perched on a hilltop with awe-inspiring views of the Serengeti plains, this villa at Sasakwa Lodge has been built in the style of a 1900's East African ranch house with dramatic chandeliers, leather and sparkling crystal adding plush opulence to the villa.
The grand bedrooms are spacious and beautifully appointed and the enormous bathrooms offer wrap-around views of the Serengeti. The villa has 4 bedrooms, each with private baths, a living room, dining room, small kitchen, a nanny flat and a private infinity plunge pool in the garden.
Game drives and walks can be enjoyed with your private guide. Other activities include archery, lawn croquet, mountain biking, hot air ballooning, and equestrian pursuits (the horse riding is best suited to experienced riders and this is at the lodges' discretion.) Exclusivity promises thrilling game viewing in open four-wheel drive vehicles.
Wildlife in the Grumeti area includes lion, elephant, buffalo, wildebeest, zebra, baboon, cheetah and Maasai giraffe. The pan on the edge of the camp is home to pods of grunting hippo which float lazily on the surface by day and after dark move onto the grassy plains to feed. Some of the largest hippos in the world are found in these waters. The area also boasts one of the highest densities of cheetah in Africa. The area forms part of the famous migratory route where one and a half million wildebeest along with hundreds of thousands of zebra and antelope complete a three-hundred mile journey in search of life sustaining grasses, representing the greatest journey of any land animal on the planet. The best time to witness this spectacular migration is June /July.