NAMIBIA / Omboroko Mountains
The Okonjima Villa is situated on the grounds of Okonjima Lodge near the town Otjiwarongo in the Omboroko Mountains (northwestern Namibia).
The four bedroom villa is great for a family or small group of friends. The Bush Suite is a two bedroom suite situated on the grounds of Okonjima Bush Camp (close by to the lodge). At both the villa and the suite, a personal host and chef attend to all your needs as well as an exclusive guide and game-drive vehicle.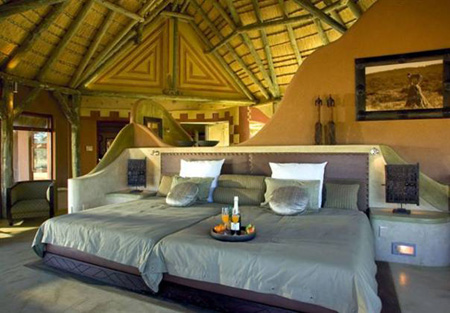 Okonjima is home to AfriCat which is a non-profit organization set up to conserve and protect threatened cheetah, leopard, and other wild cats of Namibia. You will be able to observe some of this program at work and learn more about these amazing and beautiful animals. Some of the activities include: Leopard viewing – Leopards are frequently seen, giving you an opportunity to observe these magnificent predators from a hide, or "radio–tracked" from the game-viewing vehicles. The leopards roam freely and catch their own prey within the rehabilitation area. Cheetah tracking on foot: participate on foot in the radio-tracking of the rehabilitated cheetahs on the Cheetah Tracking Trail.