ZAMBIA / Lower Zambezi National Park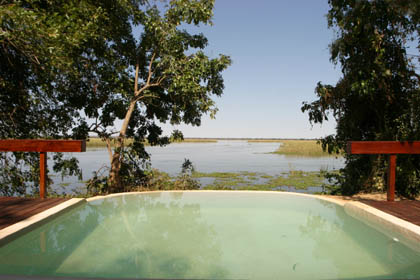 Kigelia House is the newest addition to Sausage Tree Camp, set in a stunning location along the Zambezi River at the heart of the Lower Zambezi National Park.
It is the perfect choice for a small group or family, with two luxurious bedrooms (with private bathrooms) separated by an open plan living area leading onto the private deck and pool. Both bedrooms are large enough to occupy a 3rdbed if requested. The house has a large plunge pool, fully stocked bar and dining area for private meals. It is the closest accommodation to the Zambezi River with a beautiful teak deck sweeping across the entire front of the suite, offering amazing panoramic views. Each tent has its own personal Muchinda (butler) to attend to your every whim and a private guide to accompany you on a wide range of safari activities.
There are many different activities and ways of game viewing so that you not only see but truly experience the wonders of this very special place. Activities are lead by professionally trained, qualified and well experienced safari guides. Activities on land include game drives (day & night) and walking safaris. On the river, which is relaxing yet still very exciting, activities include canoeing, boat cruises and fishing for the world-renowned Tiger fish. While staying at Sausage Tree you have a good chance of seeing lion, leopard, jackal, hyena, elephants, hippo, buffalo, waterbuck, zebra, impala, bushbuck and kudu, plus many more including nocturnal species.