Cherri Briggs
Cherri Briggs founded EXPLORE Inc. in 1992 in order to pursue her interests in conservation and community development. Since that time EXPLORE has become one of the leading African travel companies in the USA and now operates in 18 African countries. Today EXPLORE has offices in Colorado, Boston, Botswana and Zambia. Cherri has been the recipient of Condé Nast Traveler's prestigious award "Top Travel Specialist for Southern Africa" annually since 2001, Condé Nast Traveler's "Top Villa Specialist for Africa" each year since 2008, and was honored with Condé Nast Traveler's first award for social responsibility in travel. Cherri is co-founder and a board member for the Safari Professionals of the Americas (SPA), a group of North America's leading safari operators who are authorities on sustainable travel to Africa. Cherri was appointed to the Botswana Tourism Organization Board in January 2014 and is the first non-citizen to receive this appointment. She has also been appointed as Honorary Consul for the Embassy for the Republic of Zambia to the USA in August of 2013.
To learn more about Cherri, click here to view her full profile.
Elizabeth Rand
Elizabeth Rand is Vice President of Operations for EXPLORE. She has been with the company since 1996 and works closely with EXPLORE President Cherri Briggs in the designing of EXPLORE's custom itineraries. She coordinates every facet of her clients's itineraries and has an encyclopedic knowledge of the finer details of traveling in Africa. Over the years she has developed an extensive knowledge of EXPLORE'S favorite lodges and guides throughout Southern and East Africa. Elizabeth travels each year to Africa to deepen her knowledge, experience the service at the lodges, and better understand EXPLORE destinations. With EXPLORE she has traveled to Botswana, Namibia, South Africa, Zambia, Zimbabwe, Kenya, Tanzania, Mali, West Africa, Morocco, Uganda and Ethiopia. You can rely on Elizabeth to help you plan every detail of your trip. Elizabeth's interests outside of EXPLORE are skiing, horseback riding, biking and hiking. She has completed several triathlons and is dedicated to a healthy lifestyle.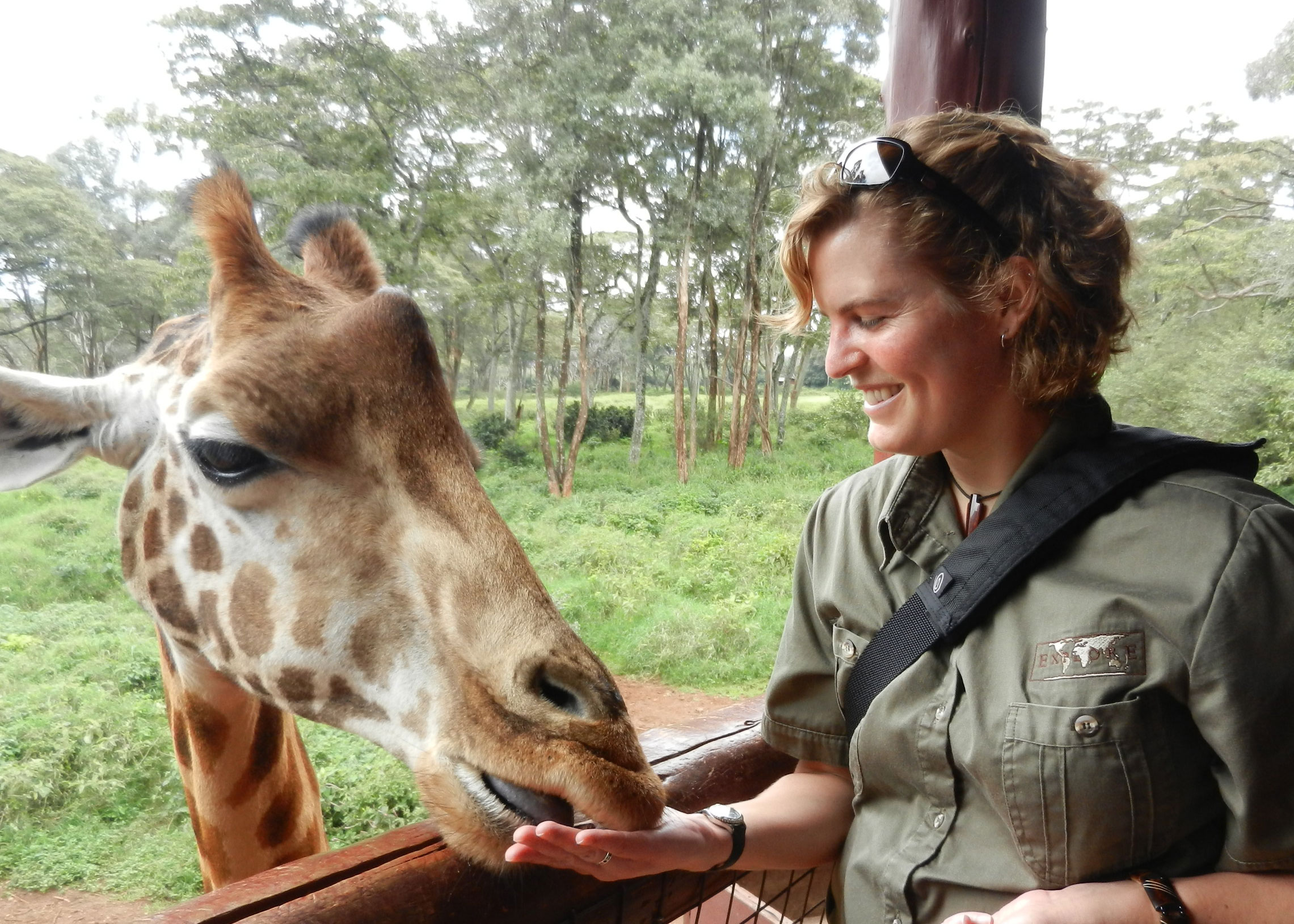 Elise Day
As the Educational Programs Director for EXPLORE, Elise heads up the Boston office and is in charge of developing and implementing educational group programming. In developing her unique educational itineraries she works closely with EXPLORE's founder, specialist guides in Africa, researchers and naturalists to create high-content, hand-crafted educational experiences. Elise's group departures adhere to the EXPLORE ethic that 'small is beautiful' and she has developed a stable of high quality lodges that often allow her to gain exclusive use of lodges for her groups. Before joining EXPLORE in 2006, Elise worked with both the Department of State and the Department of Commerce at the American embassies in Paris and Reykjavik. She also spent a year teaching English to primary school students in Epinal, France. Past tourism industry jobs include tour guiding in the American Southwest and ski instructing at Steamboat Ski Resort. Elise's travels have taken her throughout Europe and to South Africa, Botswana, Zimbabwe, Zambia, Kenya, Tanzania, Ethiopia, Namibia, Malawi, Madagascar, Australia, New Zealand, Peru, Ecuador, Tahiti, Mexico, Canada and the Bahamas. Her interests beyond Africa and traveling include skiing, hiking, snowshoeing and being in the outdoors as much as possible.
Katie McDonough
As EXPLORE's Senior Custom Travel Specialist, Katie McDonough, works closely with our independent travelers and private groups designing highly customized trips. Katie has been with EXPLORE since 2006 and she has traveled in Africa extensively. Her passion for all things African began when she was a little girl. Just for fun, Katie liked to draw pictures of the continent and label all the countries and their capitals. Her dream of traveling to Africa came true when she was 21 years old and she was fortunate to study abroad at the University of Cape Town in South Africa. Upon completion of her program, she refused to go home and traveled independently through Kenya, Tanzania, Zanzibar, Malawi, and Zambia. With EXPLORE, Katie has traveled throughout Southern Africa and Madagascar. In 2008, she spent 3 months in Zambia's Lower Zambezi valley working for EXPLORE's community development projects; a side of EXPLORE's work of which Katie is very proud to be associated. In addition to EXPLORE's African destinations, Katie has extensive knowledge of Latin America having lived and worked in Peru, Cuba, & Panama. She is responsible for EXPLORE's "Beyond Africa" destinations: Peru, Ecuador, and the Galapagos, as well as our developing "new" destinations of Brazil, Argentina, Chile, & Colombia. She holds a Master of Arts degree in International Education, with a focus on international program management and cross cultural communication.
Grace Donovan
As the Educational Programs Associate Director in EXPLORE's Boston office, Grace supports all aspects of the scheduled departures in the group programming sector. Grace came to EXPLORE with extensive experience in the travel industry including sales, customer service, operations, quality assurance, emergency management and custom trip design. Her focus in work and life is combining a love of travel and authenticity with a passion for learning and pushing boundaries, which makes EXPLORE a perfect fit. She has traveled the world and has a special love for Africa. When not at work, Grace is an avid athlete, regularly playing volleyball and flag football, learning to golf and surf, biking to work as much as possible and running along the Charles River. She also loves to hike, cook, enjoy New England – and all its seasonal glory – and spend quality time with her family. Two of her biggest weaknesses are farmers' markets and lattes.
Ryan Ernstes
Ryan Ernstes works to support all of EXPLORE's custom trips in the role of Assistant Travel Coordinator. Led to the role by her prior experience as Founder/Director of her hometown charity event, Ryan utilizes her expertise by designing trip itineraries, supporting the Travel Specialists, and liaising with EXPLORE clients and vendors. One of the aspects she likes most about her job is that it puts her in touch with a greater perspective and keeps her mindful of global issues, especially those pertaining to conservation and the developing world. When she isn't working, you can probably find Ryan camping in the Rockies, or hitting the trails to train for her latest ultra-marathon. Ryan is inspired by Diana Nyad—whose daring feats late in life remind us to defy expectations and to reject the limitations expected of us because of age, gender or other stereotypes.
Liz Fletcher
Liz joined the EXPLORE team in the role of Assistant Travel Coordinator and supports the team in all aspects of trip development. Originally from North Carolina, Liz has spent her life traveling, including two years studying in Rome, Italy. Liz was drawn to EXPLORE for its commitment to conservation and community development in the Lower Zambezi and its dedication to providing clients with the most comprehensive experience possible in Africa. Liz's dream is to someday go on a horseback safari in Tanzania or Botswana. Outside of EXPLORE, Liz enjoys the Colorado outdoors by hiking, fly fishing, and riding horses in the mountains.
Johanne Harms
Johanne Harms joined the Explore team to work in their accounting department. Prior to working with Explore, she most recently worked as a commercial insurance agent in Steamboat Springs. However, her true passion lies in the travel industry and she previously managed a large travel agency and worked as a travel agent in Boulder, Colorado. Johanne was born in Montreal, Canada, and gained her love of travel early as a young child. Along with her family, she lived in Tunisia, Africa for a few years and toured Africa and Europe as a part of growing up. After graduating from college in Wisconsin, she couldn't wait to set out on her own travelling throughout Europe extensively. She has been in Steamboat for 15 years and is very excited to join Explore and become a part of this great team. When she is not working, Johanne spends her time with her husband, son, and Chocolate Labrador. She loves to camp, bike, ski, paddleboard, hike, and of course, travel.
Richard Wilson
Richard Wilson and Cherri Briggs were married in the Kalahari desert with 60 guests including 15 'bushmen' or San people who performed a trance dance for their wedding. Richard currently acts as the Director of Conservation and Community Projects for Direct Impact Africa, EXPLORE's community action arm. Wilson's love affair with Africa began at the age of 11, when his father moved the family to South Africa from Aberdeen, Scotland. Richard started running a small clothing company in South Africa, which led to the collection and export of traditional African crafts and artworks. When he formed Zambezi Trading Company and started working closely with local artists, Richard became more connected to the people and the sustainability of their villages and cultures. In 2008, Cherri and Richard formed DIRECT IMPACT AFRICA (DIA), committed to benefiting the lives of local Africans who live in proximity to protected areas. Richard now dedicates much of his time assisting local communities in the Lower Zambezi and other parts of Africa by supporting the efforts of community cooperatives which further conservation initiatives. His latest projects include: sports programs for boys, girls and young adults, new playgrounds for schools, organic fish farms, irrigation for small cooperative farms and medical clinic and school improvement programs.
Ngozi Asinga
Ngozi is the African Heritage Programs Co-ordinator. Born in Zambia, Ngozi was educated in the US and currently resides in Atlanta with her family. She comes to us with an interesting background, combining strong business skills with those of a professional athlete. Ngozi is excited about using her personal experiences to bridge the gap between the African Diaspora and the African Continent. Ngozi is a Two-Time Olympic Athlete in Track and Field. She was the first woman to represent Zambia at the 1992 Barcelona Olympics and the 1996 Atlanta Games. She was also privileged to be the Zambian Flag Bearer at the 1992 Opening Ceremony. Ngozi holds a Bachelor's degree in Sociology/Anthropology from Principia College in Elsah, Illinois, and an MBA from Samford Univeristy in Birmingham, Alabama. Outside EXPLORE, Ngozi's interests include running, travelling and hiking.